Volunteer leaves behind smiles, hope – and fur!
Spring 2016 Newsletter
Siena/Francis House Homeless Shelter
www.sienafrancis.org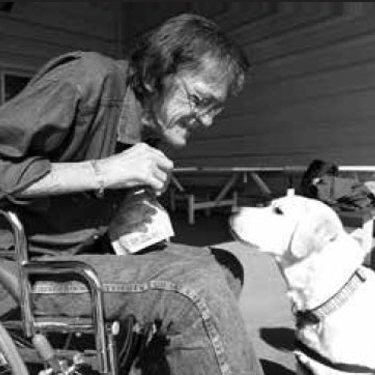 On a sunny Wednesday morning, a group has gathered on the patio of the Siena/Francis House's men's shelter, surrounding a volunteer. She sits quietly, listening to guests, and at the end of the conversation, may shake hands.
Or lick them.
With four legs, weighing 50 pounds and covered in blonde fur, Piper is a 7-year-old yellow Labrador retriever who visits the Siena/Francis House weekly. With her facilitator (and owner), Leslie Sittlow, Piper greets guests with a happy dog smile.
Piper has been doing therapy work since 2013. She is credentialed by two different agencies – Pet Partners, a national agency, and Windwalker Humane Coalition for Professional Pet Assisted Therapy, a regional organization based in New England. To maintain her certification, Piper undergoes a thorough testing process every two years.
"After the bombings in Boston, several Pet Assisted Therapy teams traveled to the area granting comfort and emotional support to those in need," Leslie wrote in an email. "I knew Piper would be a good fit for the program as she has such a gentle, healing spirit and is eager to share love with others."
Piper and Leslie visited the New London Homeless Hospitality Center in Connecticut as part of her therapy training. The pair established a pet therapy program there, providing homeless neighbors with much desired company.
"Being part of a military family, I was eager to provide comfort to veterans and other neighbors in need," Leslie wrote. "To see faces light up as we approached and hear how she brought feelings of joy, comfort and companionship and that they had been anxiously awaiting our visit was reward beyond measure for me, and Piper thrived on all of the love and attention she shared with the guests." When Leslie's husband's work brought them to Omaha in 2014, Piper continued her mission to help the homeless at the Siena/Francis House.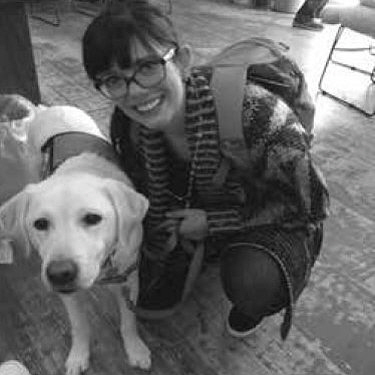 Leslie and Piper provide our homeless guests with company and friendship. Guests call to them from down the street and comment how their visits are the highlight of the week. Many guests who have a love for animals miss out on the benefits of pet ownership due to their inability to afford or care for them. Pet therapy visits allow feelings of a home-like environment and positive associations. The one-on-one attention provided by Piper and Leslie bring stress relief and promote social interaction.
"We share smiles, stories, some sad times where we listen and have quiet moments of understanding between Piper and her friends," Leslie wrote. "We have developed relationships, and that unto itself is incredibly powerful and healing."
Sister Stephanie Matcha, who works at the Day House with homeless guests, says Piper's visits are highly anticipated. If Sister Stephanie forgets to write down Piper's visit on the daily schedule, guests remind her. "Piper not only brings joy, but a sense of calmness and serenity to guests," Sister Stephanie said. "It's a great gift to establish a relationship with a canine that offers them unconditional love and acceptance, which is exactly our mission at the Siena/Francis House."
In addition to promoting friendship and healing at Siena/Francis House, Piper and Leslie also volunteer at Granville Villa Assisted Living Facility in La Vista, Bellevue Public Library, and Westside Elementary School in River Falls, WI . You can follow Piper's adventures on her Facebook page at www.facebook.com/piperspath.